Phil Hauck, Board President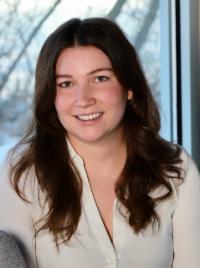 Alexa Naudziunas, with deep roots in community-building, has accepted the position of Executive Director of Envision. She begins her term September 8 when she joins Envision's eighth Garry Golden Strategic Foresight Workshop series along with 23 others. In October, she will enter the University of Houston's certification program on Strategic Foresight.
Alexa was selected from a strong field of candidates after the resignation of Envision's first Executive Director, Steve McCarthy, who left to return to his home in western Wisconsin.  The search committee was impressed by her grassroots experience in building community involvement: She was employed by the city of Oshkosh for eight years, doing major event planning as well as coordinating neighborhood and city committees.
We were also impressed by Alexa's commitment to influencing progress on as broad a regional expanse as possible. As a working board committed to the mission of infusing Strategic Foresight into the workings of Greater Green Bay organizations, we realize that, to be most effective, we must extend our reach beyond that of very active board members. Alexa as Executive Director will make that possible.
A native of Chicago, Alexa recently moved to Green Bay. She graduated from Augustana College and most recently worked for a regional planning organization headquartered in Appleton. In May, she married Devon Palmer in Door County, and they live in Howard.